Finney

OVERALL STATISTICS

BIRTH
AGE
SIGNED ON
FROM

03-07-1920

N/A

10-01-1942

Liverpool Stanley

DEBUT
LAST MATCH
LEFT

10-01-1942 v Dewsbury

Dewsbury

1942-

CAREER
APPEARANCES (SUBS)

1942-1942

1 (0)

TRIES
GOALS
DGOALS
PTS

1

0

0

3
BIOGRAPHY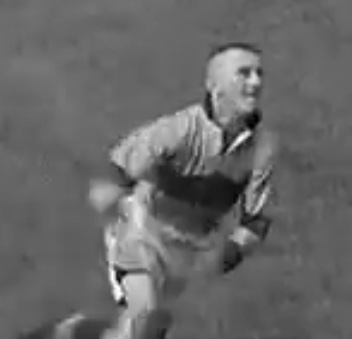 Finney by SHS

This is a case of a 'one-off' appearance by a player necessitated by the wartime situation, when the St. Helens club was desperately short of players. Harry Finney was a second-rower from Provident Street, who played before the war and, for some time, during the early part of the conflict. In the Reporter [02-09-1941], the correspondent 'Recorder' tells us that "Harry Finney is, of course, gone from us for the war". The person who played scrum-half against Dewsbury on 10th January 1942 is not Harry! As yet, we have no first name or initial for him.

Premier, in the St. Helens Newspaper went through the Saints' line up in terms of their experience as follows: "Butler, Leyland [2nd match], Bill Fishwick, Hussey [1st match], Newman; Parkinson [1st match], Finney [1st match]; Noonan, Curran, Davies, Garner, McDowell and Cross". The interesting one is the first match status for Finney. The teams are numbered differently in both papers and in one case, Finney's partner is Hussey at stand-off. As Premier went on: "Partnering Hussey is Finney, who I once saw playing for Liverpool Stanley. Hussey and Finney did astonishingly well under the circumstances". Bear in mind that Dewsbury had assembled an all-star line-up, including the famous full-back Jim Sullivan. "They [Saints] were well-whacked", added Premier. "But they knew that they had been facing field artillery with tommy guns". It is interesting to note that Finney scored a try in his only outing for the Saints.

The second-rower, Harry Finney did return afterwards, presumably on leave and re-occupied his position in the team, but we have scant information about Saints' one-off scrum half. The date of birth is notional and used for our statistical analysis only. Any further details would be welcome, including an image of this player.
SEASON STATISTICS

Season (Official Matches)
Tries
Goals
DGoals
Matches
1941~42
1
0
0
1
TOTALS:
1
0
0
1
Season (Other Matches)
Tries
Goals
DGoals
Matches
TOTALS:




ALL MATCHES
| Date | | Pos | Opponents | Comp | Season | Venue | FT | FTO | T | G | DG | NPS** | |
| --- | --- | --- | --- | --- | --- | --- | --- | --- | --- | --- | --- | --- | --- |
| 10th Jan 1942 | L | 7 | Dewsbury | WEL | 1941~42 | A | 8 | 37 | 1 | | | | VIEW |
*Unofficial Match. **Non Playing Sub.
WINS : | LOSSES : 1 | DRAWS :