| | | |
| --- | --- | --- |
| St. Helens | | 16 |
| Leeds Rhinos | | 24 |

| | | |
| --- | --- | --- |
| St. Helens | | 16 |
| Leeds Rhinos | | 24 |
| DATE | COMPETITION | VENUE | ATTENDANCE | (HT) |
| --- | --- | --- | --- | --- |
| 4th Oct 2008 | Super League Grand Final | NEUTRAL | 68810 | HT:12-6 |
MATCH NOTES : Match played at Old Trafford, Manchester
Age in brackets is at time of match - Total average age for this team is 27. - ** non-playing sub
COACH : Daniel Anderson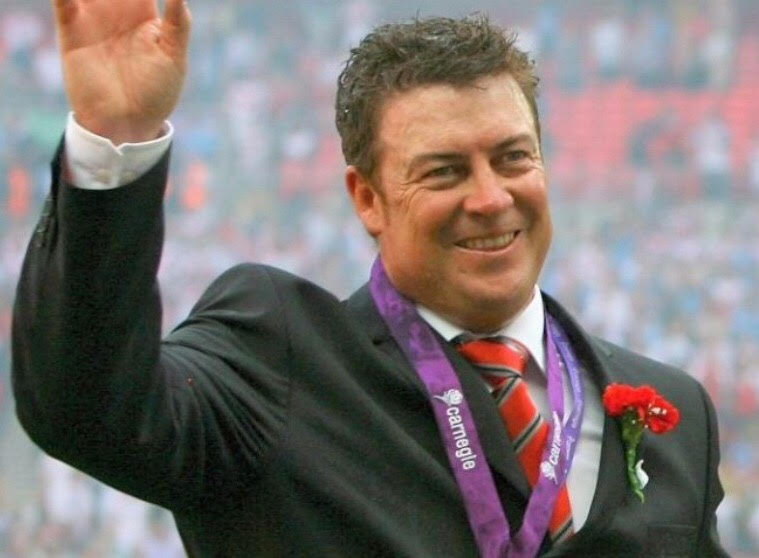 (2005-06-26 : 2008-12-31 )

MATCH REPORT : Saints went down 24-16 in the Grand Final as Leeds came from behind to take the spoils. In atrocious conditions, Saints had the better of the opening 20, but only had a James Graham try to show for their endeavours. Leeds then punished a couple of errors to go in leading 12-6 at the break. After one of the most animated half time team talks you are ever likely to see, Matt Gidley tied the game up before Danny McGuire put Leeds ahead once again. Saints never gave up and Ade Gardner put them back in a shout, but McGuire's second effectively ended their challenge. Pre-game, Jason Cayless was ruled out so Saints went with exactly the same side that beat Leeds 38-10 in the Qualifying Semi Final in what was the last game in charge for Daniel Anderson and Mike Rush. Also looking for a final hurrah, and playing, were Nick Fozzard and Willie Talau whilst Mike Bennett and Paul Sculthorpe were behind the scenes working hard to make sure it happened. Special mentioned also to Apollo Perelini who was also leaving the Club after the game to take up a Head of Coaching role at the Elite Sporting Academy in Dubai. Leeds were without Brent Webb who also looks set to be out of the World Cup with a back injury. Once again a Saints v Leeds game was played in torrid and wet conditions and it would be whoever mastered the weather that would come out on top.

Saints kicked off and immediately out Leeds' pack on the back foot but a nice kick from Sinfield cleared their lines. On their second attack, the Rhinos kicked early in the tackle count and forced Gardner to return. Jon Wilkin then did the same on the last to pen Leeds right on their own 10. It was a position they never recovered from. A poor kick from Sinfield was returned with interest before Sean Long fed Lee Gilmour who swapped passes with James Graham twice before the Man of Steel went over. Long with the extras. The try came down the middle, somewhere were Leeds are usually the strongest, and showed Saints had weathered Leeds' early strong-arm tactics. On 12 minutes, Lee Gilmour made another mazy run and put Saints in great field position. The men in Red Vee then forced the ball wide, but Matt Gidley just couldn't squeeze out a pass before he went into touch. Eight minutes later after some scrappy play from both sides, Leeds won a penalty in Saints' half. And from there they always seemed favourite to get over, especially when Klein missed a blatant forward pass from Senior to Buchanan, but the defence held firm. Klein then awarded Leeds their third penalty, harshly penalizing Sean Long for dangerous play in Leeds' half. From there, the Rhinos were down the field and going over through Lee Smith who linked on to a Buchanan pass. Sinfield with the extras and undeservedly tying it up. That try had Saints wobbling, and they were struggling to clear their lines, especially with Kevin Sinfield kicking it right onto the tryline every time. But a nice bomb from Long on the 28-minute mark gave Leeds some line clearing of their own to do. Still, Leeds continued to come and some hot defence was needed once again to keep out Ian Kirke. And it wasn't long before another penalty conceded by Saints in Leeds' half was punished, Keith Senior using his skill in the air to flick a high ball from Sinfield ball over to Ryan Hall who kicked it round Talau and touched it down. Sinfield off the touchline. From the restart, Smith and Scruton made a hash of mopping it up giving Saints prime territory with two minutes to go. But, again, the ball was spilled and the chance was lost.

Half time: Saints 6 Leeds 12

For the members of the media having a half time brew in the Press Lounge, they could see for all its glory Daniel Anderson's very angry, animated and pointed half time team talk to his charges. And they responded to the right earbashing with probably their strongest set of six for the last 15 minutes. Their second set was even more fruitful when on the last, a high Long ball was knocked back by Ade Gardner into the hands of Gidley to notch his ninth of the season. Long tying it up from the touchline. On 48 minutes, a scampering clearing kick was adjudged to be a 40:20 and gave Leeds pressure on Saints' line. And on the last a simple chip through was grounded by McGuire to put the Rhinos back ahead. Sinfield making it 18-12. Saints had a chance straight after the try but couldn't find a way through the Leeds defence. James Graham then had a burrow of his own and was just held up short. But the next time they came, it was classic Saints. The ball was worked to the right through Cunningham, Gidley, Roby and then to Gardner who scored his 31st of the season. Long wide with the extras. Seconds later, McGuire was mopping up a defensive error and streaking over for his second. Sinfield making it 24-16 for the boot. With ten minutes to go, Roby won a penalty for the Saints giving them a big set of six in Leeds' 20. They then won another set from a penalty, only to see the ball drop to ground once more. Saints battled in the last ten minutes; Long producing a towering bomb to put Leeds under pressure, but they always left themselves too much to do.

Copyright © Saints Heritage Society 1999-2022