| | | |
| --- | --- | --- |
| St. Helens | | 13 |
| Leeds Rhinos | | 4 |

| | | |
| --- | --- | --- |
| St. Helens | | 13 |
| Leeds Rhinos | | 4 |
| DATE | COMPETITION | VENUE | ATTENDANCE | (HT) |
| --- | --- | --- | --- | --- |
| 24th Feb 2006 | Super League | HOME | 13443 | HT:4-6 |
Age in brackets is at time of match - Total average age for this team is 25. - ** non-playing sub
COACH : Daniel Anderson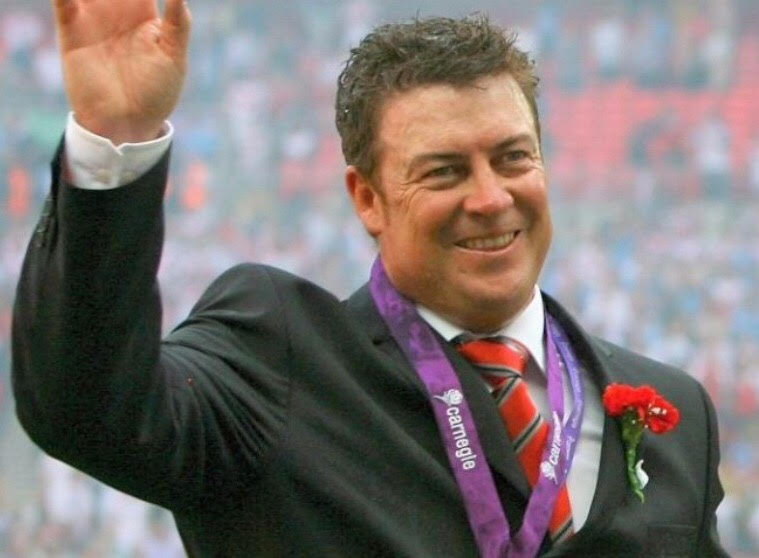 (2005-06-26 : 2007-12-31 )

MATCH REPORT : Saints showed why they are favourites for the Super League title this year with a first-class display against Grand Finalists Leeds Rhinos, built on an impressive, committed defensive display.

It was a titanic struggle that was an antidote to the open, attack-friendly style of most Super League matches, as both defences remained disciplined and focused on keeping their opponents out.

Discipline, however, will have caused both coaches some concern in a game that saw 23 penalties awarded, 13-10 in Saints favour. It was a consequence of the curious pattern of penalties that helped to give the game a sense of being an arm-wrestle, as one team slowly exerted authority over their opponents, gaining territory by the inch and the penalty kick.

Leeds started strongest, launching a rare attack in the opening set, but Paul Wellens halted Jamie Jones-Buchanan's fifty-metre break before clearing up a dangerous grubber moments later.

The Rhinos got even closer on ten minutes, when debutant Danny Williams touched down after claiming Kevin Sinfield's kick which had bounced kindly. However the video referee intervened, deciding that Williams was marginally offside. While it was the correct decision, it was one that perturbed Leeds coach Tony Smith.

Saints wrestled back control, aided by a 6-0 penalty count in the opening fifteen minutes, and thought they had made the pressure count when Gardner squeezed in at the corner, but referee Ashley Klein halted celebrations having decided that Lyon's final pass was forward. This time it was the turn of Saints coach Daniel Anderson to quietly curse his luck; he would have been justified in being apoplectic.

Four penalties in as many minutes turned the tide in favour of the visitors, and Williams did manage to get his name on the scoresheet, racing on to Richie Mathers' subtle grubber. This time the video referee was not given the opportunity to intervene: it may have been interesting if he had.

Both teams continued to battle for midfield supremacy in a game that maintained an intensity reminiscent of play-off football throughout.

Saints got back level with less than ninety seconds left in the first half when wannabe stand-off Paul Anderson released a perfect short pass for Lee Gilmour's angled run to find the smallest gap in the Leeds defensive line. Lyon's conversion nudged the home side ahead for a slender 6-4 lead.

In a game with so few points only a short spell of dominance was enough to tilt the game permanently in one side's favour and Saints managed that in a four-minute period.

Lyon added a penalty following a misdemeanour by Keith Senior, then Saints first forced, and then were granted, repeat sets, and it was on this third attempt that Francis Meli was able to crash over the line, just reward for his best game so far in a Saints shirt.

An eight-point cushion may have allowed the Saints fans to relax slightly, but there was no relenting on the field as the teams continued to stand toe-to-toe like heavyweight boxers slugging it out.

Jamie Lyon's try-saving tackle on the hour mark, dumping Williams into touch as he threatened the Saints line, was a rare chance for the Rhinos, who pressed and probed but weren't able to really pressure the Saints line.

Sean Long's drop-goal edged Saints further ahead, and Leeds were unable to respond as the 2005 table-toppers maintained their 100% start to the season.


Copyright © Saints Heritage Society 1999-2022